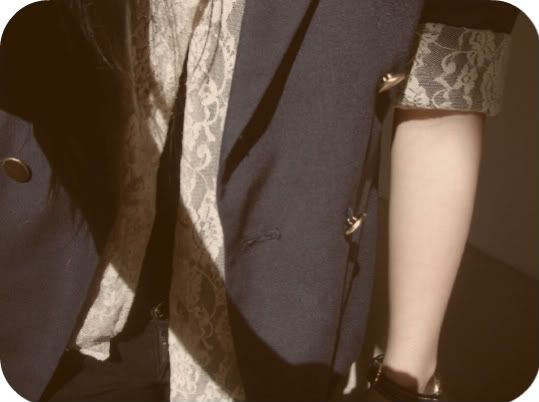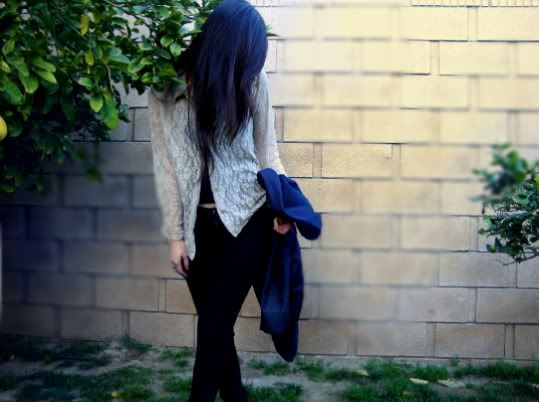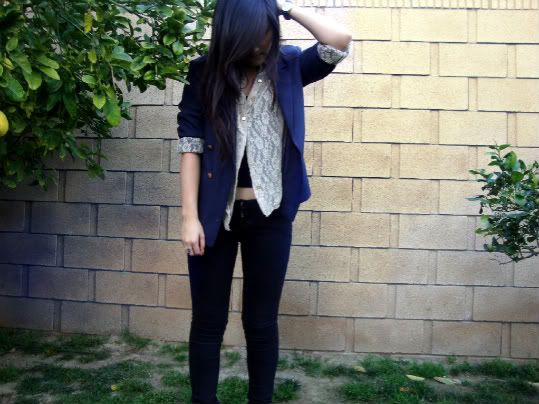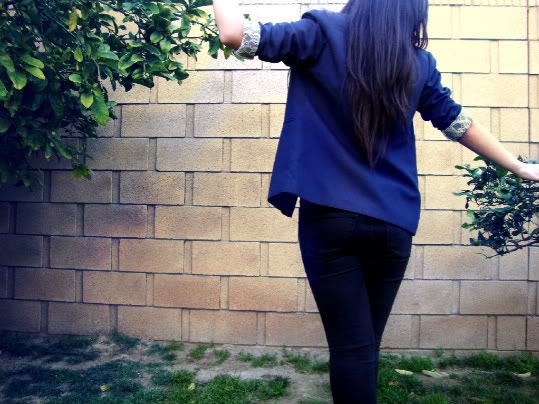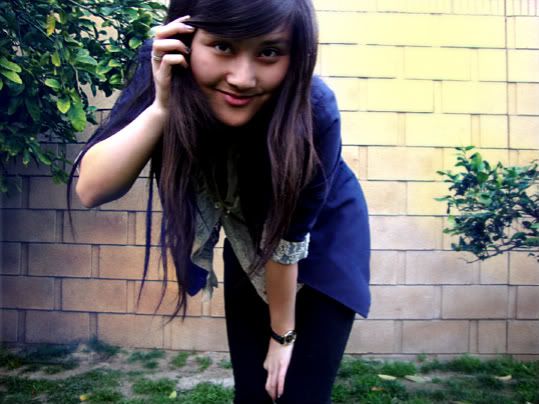 Blazer: Farah (

Mom's Closet

)
Lace Button-Up: Notation (

Thrift

)
Middle Finger Ring: Swapt Meet
Ring Finger Ring: Sheltopia,

So I'd just like to start off by saying the whole "Accented-Cuff" thing going on here was totally "accidental"... in a way. I was incredibly late for school & still wanted to wear a snazzy outfit because I was planning to go watch Red Riding Hood afterwards with the pals. I decided I wanted to wear my beige lace top for the first time & looked outside only to see that it was pretty chilly out! I decided to throw on a blazer but remembered it's only a 3/4 sleeve blazer (so I'd always cuff it up to 1/2 way). I personally thought the longer blouse under the blazer looked rediculous.. Rather than scrunching it up I just folded some of the blouse into the blazer & Tadaa! It came out way better than I imagined & well... I wasnt expecting being able to create such a combination in so little time! I'm surprised I never tried this sooner! It's official, I really need to go out and buy long sleeves! Convenience: If it gets too hot out, simply take off the blazer & you'll still look great!
Apri 16th

, It's nearly my birthday! Sortta-ish.. about a month to go! I can't wait to be 17. I recall while I younger I solely wanted to be 17. Why 17? I frankly don't know. I guess I've always viewed 17 as an age of great youth, beauty, maturity, coolness, and plain awesomness! Well I think I'm just going to hold off on the writing portion of the post for now... I really want to gt started on that Lace Bandeau DIY! I also need to make a Pi day shirt-- I'm pretty stoked! Would you guys like to see how the Pi Shirt comes out? Considering how I won't get responses to that question soon enough, I'll assume you guys would want to see it! >:) hhehe. Oh! I'm also currently uploading an OOTD vid for this one & a mini Budget haul! Feel free to check it out on my youtube channel HERE!